PN Group - Regal und Metallbautechnik aus Schwanenstadt in Oberösterreich
Regalprüfung DIN EN 15635
Maximum security for your company and your employees
The warehouse operator is legally responsible for the safe operation of a racking and shelving system and thus also for the safety of the employees, stored goods and technical equipment. The legislator prescribes regular inspections which have to be carried out at least every 12 months by competent rack and shelf inspectors according to Regulation DIN EN 15635. With a review from PN Group Regal and Metallbautechnik GmbH you fulfill these legal requirements – confirmed by an official inspection sticker.
Your benefits at a glance:
Qualified inspection
The inspection is carried out by a certified racking and shelfing inspector
No work for you as the operator
Accident risks are detected early
Prevention of personal injury and property damage
Longer life of your system
Retaining value and saving on repair costs
Official test report
Official certificate for your safety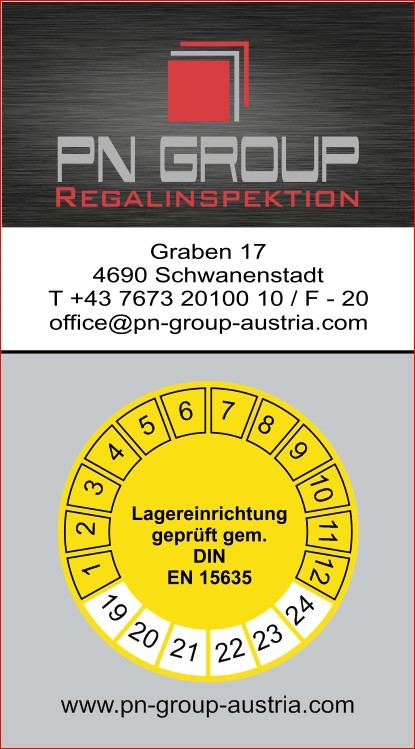 Careful visual inspection
The shelf and racking examination is carried out during operation by a thorough visual inspection. The certified shelf inspector checks the load, the statics and protective equipment of your system.
Report and test plaque
After the inspection, you will receive an official test report – possibly with recommendations for repair measures and further examinations. If your system meets the legal requirements, you will receive the official test plaque.
Offer
Of course, we will also make you a non-binding offer for any upcoming repairs. In addition, we will provide professional support until the safety of your racking and shelving system is restored.
Long term inspection plan
Whether and how often you should have shelving system tests performed beyond the statutory period depends, among other things, on the age, condition and stresses affecting your system. Upon request, we will develop a long-term inspection plan with you. In addition, a check is always useful if statics and safety could be impaired – eg after a conversion resulting in changes to the beam heights or in case of damage due to incorrect operation or collision with a forklift.

PN Group - Regal und Metallbautechnik aus Schwanenstadt in Oberösterreich
About Block II